Book premiere and time travel with the Malt Queen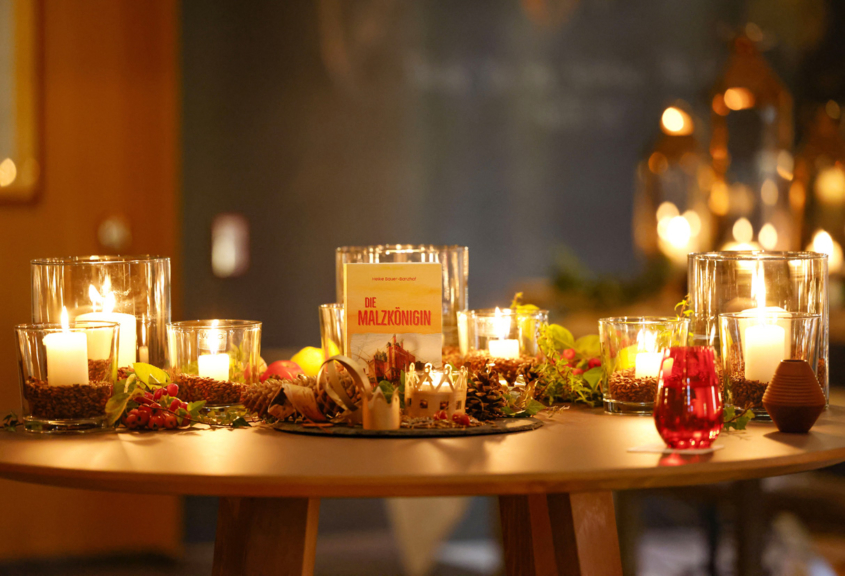 A fantastic reason to celebrate: The German-written book "The Malt Queen" by Heike Bauer-Banzhaf had its premiere at the Weyermann® Visitors Center!
The life of our president – 4th generation – Sabine Weyermann is the inspiration of the book. The biographical-fictional story tells how a family business steps through changing times. 500 years of Weyermann family history are impressively described in a personal way.
With invited and vaccinated guests, the book release took place in our atmospherically decorated Weyermann® Visitors Center.
The evening was opened by Sabine Weyermann with an introduction to the novel. "My life as a maltster is colorful and diverse. Many nations, many journeys, and many people bring various anecdotes into my life – that's what I wanted to tell," she said, explaining the genesis of the nearly 300-page book.
She then gave the stage to Barbara Weyermann. The protagonist of the book, played by author Heike Bauer-Banzhaf, entered the room historically dressed. In a fascinating mixture of reading and acting, she told the story of the strong Weyermann women.
The mystical journey through time began in the 16th century. In three stages, Heike Bauer-Banzhaf took the devoutly listening audience through six centuries of legendary company and family history.
The epochs of the story were accompanied by three matching beers from our Weyermann® brew manufacture. The dark smoked beer Weyermann® Schlotfegerla® stood for the origin of history, the Bamberger Hofbräu® Pils for the modern years of the 1950s and the Weyermann® India Pale Ale for the globalized world of today.
The wonderful event ended with admiring words from the author to Sabine Weyermann, who told her story and that of the family so personally. She also thanked the many employees for describing the many aspects of the company's development. Franziska Weyermann – 5th generation – then presented the author and Sabine Weyermann with colorful bouquets of flowers and thanked them for the wonderful presentation of the family history of the "Weyerwomen".
At the end of the event, the guests exchanged thoughts about the book and the unique story in an intimate atmosphere and enjoyed the Saturday evening with candlelight and good beer.
https://www.weyermann.de/wp-content/uploads/2021/10/Buchrelease_die-Malzkoenigin_Tisch.jpg
827
1213
Silke Thomas
https://www.weyermann.de/wp-content/uploads/2019/01/weyermann-logo-brdr.png
Silke Thomas
2021-10-18 08:22:40
2021-10-20 08:30:53
Book premiere and time travel with the Malt Queen