Time to say goodbye: Diego Castillo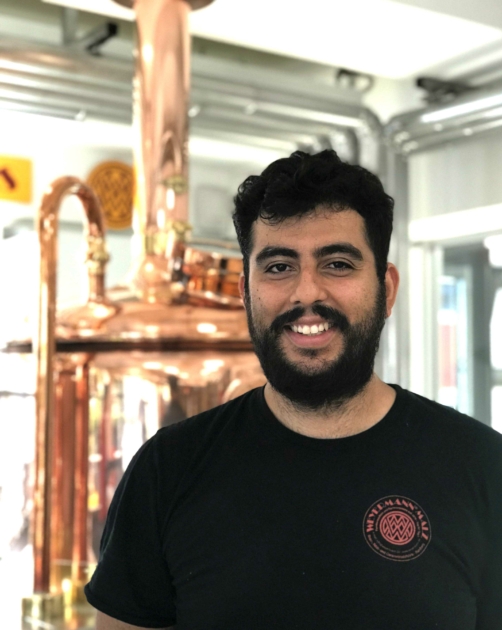 After almost 8 years in the red and yellow Weyermann® world we are saying goodbye to Diego Castillo today.
In 2014, the Guatemalan started his training as brewer and maltster at Weyermann® Malts. After his successful graduation, he was a firm part of the brew manufacture team around brewmaster Constantin Förtner since 2018.
Here he created finest, regularly awarded beer specialties and was able to live out his obtained expertise and his love for beer and the raw material malt on a daily basis.
Thanks to his friendly character and his humor, Diego Castillo is very well known and appreciated in the whole company!
Now he has decided to move on and follow his dream of travelling the whole world. His next destination – after visiting his family in Guatemala – is Bergamo, Italy.
There, Diego will join the team of the brewery Birrificio Sguaraunda, a loyal Weyermann® customer.
His way there was paved through the local brewer Sami Remadi.Sami Remadi was an exchange brewer at Weyermann® Malts from January -March 2020. During Sami Remadi's stay in Bamberg, an overall friendship with Diego Castillo developed, eventually opening the door to Bergamo, Italy, for him. What a wonderful example of the Weyermann® Happy Circle!
We wish Diego Castillo that he may spread the Weyermann® spirit across the whole world, wherever his way may lead him – and that he is always able to use his learned knowledge for the best.
Arrivederci, Diego, and always happy brewing with Weyermann® malts!
Read Diego's touching farewell letter to the Weyermann® team here:
"Dear Weyermann® team,
Today is my last day in the company.
It was seven and a half instructive years. I have made many friends here in Bamberg and have learned a lot for my life.
Here I also developed as a person.
I've had a great time here. Now I want to use my knowledge elsewhere, test my limits and share my knowledge with others.
First, however, I will visit my family in Guatemala, whom I have not seen for several years.
In July I will start as a brewer in Italy and will stay there for a year.
My goal is to learn a lot of new things and further educate myself to become a brewmaster in Germany.
With this note I would like to thank all Weyermann® employees once again for the great time I was able to experience here.
I would especially like to thank you, Ms. Weyermann, for this opportunity that I have been given here in this company.
With this email I want to say goodbye to all of you. I wish you all good health and hope our paths will cross again very soon!
If one of you is in the vicinity of Milan, he or she is welcome to contact me – it would make me very happy.
Diego Castillo"
https://www.weyermann.de/wp-content/uploads/2022/05/Diego-Castillo_August-2019-scaled.jpg
2560
2041
Ebony Rogers
https://www.weyermann.de/wp-content/uploads/2019/01/weyermann-logo-brdr.png
Ebony Rogers
2022-05-12 13:02:28
2022-05-12 13:04:36
Time to say goodbye: Diego Castillo