A ground for more safety!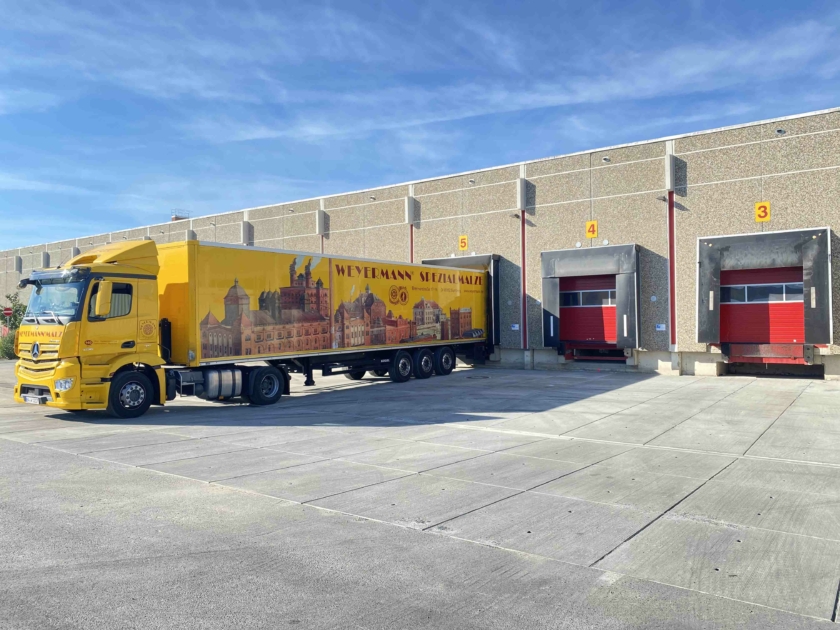 In the past few weeks, the asphalt surfaces in front of the loading gates at our Weyermann® Loading and Shipping Hub (LVZ) on Böttgerstrasse have been strengthened with so-called Stelcon® panels.
These panels, which we have already installed in our Weyermann® Logistics Center (LOZ), serve to avoid "dents" and guarantee a safe  approach area.
At our Weyermann® Loading & Shipping Hub truck and container loadings take place. Malt, malt extracts, hops and yeast are loaded at a total of 10 loading ramps including dock levellers in a 2-shift operation (5:00 a.m. to 9:30 p.m.).
There is a high level of traffic at the loading areas; the floor covering is heavily stressed by the heavy vehicles. It is therefore all the more important to ensure strong surface attachment for safe loading.
Thanks to their excellent properties, the Stelcon® panels meet our requirements for high-quality, robust and durable surface attachment. Among other things, they have a high longevity and load capacity due to production according to the strict stelcon® factory standard as well as high resistance to frost and de-icing salt changes.
With the installation of the Stelcon® panels, we have now created a level, safe approach surface for the loading gates and thus made an important contribution to our safety!
We would like to thank the company Angermüller Bau for carrying out the work and wish our drivers "Happy Loading" at all times!
https://www.weyermann.de/wp-content/uploads/2022/09/Asphaltflaechenertuechtigung_LVZ_2022_01-scaled.jpg
1920
2560
Ebony Rogers
https://www.weyermann.de/wp-content/uploads/2019/01/weyermann-logo-brdr.png
Ebony Rogers
2022-09-08 14:21:40
2022-09-08 14:23:27
A ground for more safety!