Weyermann® team cycles for a good cause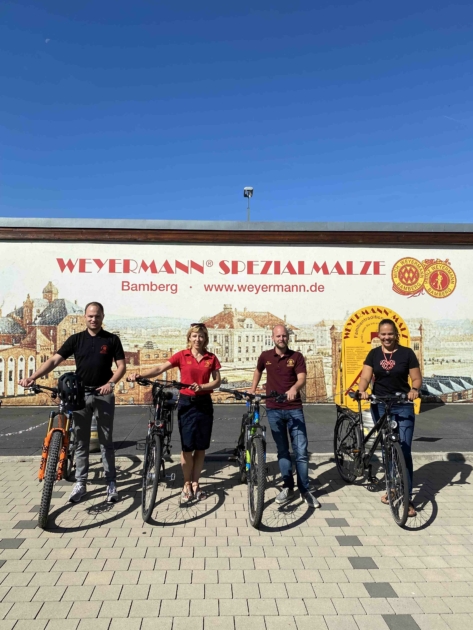 The bicycle campaign "Stadtradeln" ("City Cycling") has begun and our Weyermann® employees have already collected the first few kilometers!
"City Cycling" is a campaign by Climate Alliance, the largest network of cities, communities and districts.
The competition serves as a sign of cycling promotion, climate protection and quality of life in the communities – as well as enjoyment of cycling!
As part of the campaign, as many everyday trips as possible, private and professional, should be made by bike in a climate-friendly manner over a period of 21 consecutive days.
As in previous years, Weyermann® Malts is once again taking part in this competition with an own team.
In 2021, the Weyermann® team cycled a total of 4,019 kilometers by bike. This corresponds to the Bamberg – Lisbon route and back.
The campaign period for Bamberg and thus the Weyermann® team lasts until July 10, 2022!
We wish everyone "happy cycling"!
By the way: our Weyermann® Neunundneunzig (No. 99), a non-alcoholic wheat beer, and our Weyermann® Malztrunk (No. 0), a non-alcoholic, malt-based beverage, are the perfect companions for cyclists! Available at our Shop Weyermann® Living & Drinking in Bamberg!
https://www.weyermann.de/wp-content/uploads/2022/06/Stadtradeln_Team-Weyermann-2022-scaled.jpg
2560
1920
Ebony Rogers
https://www.weyermann.de/wp-content/uploads/2019/01/weyermann-logo-brdr.png
Ebony Rogers
2022-06-21 13:02:05
2022-06-21 13:03:40
Weyermann® team cycles for a good cause