Weyermann® Brewing Barley Producer Award – Harvest 2022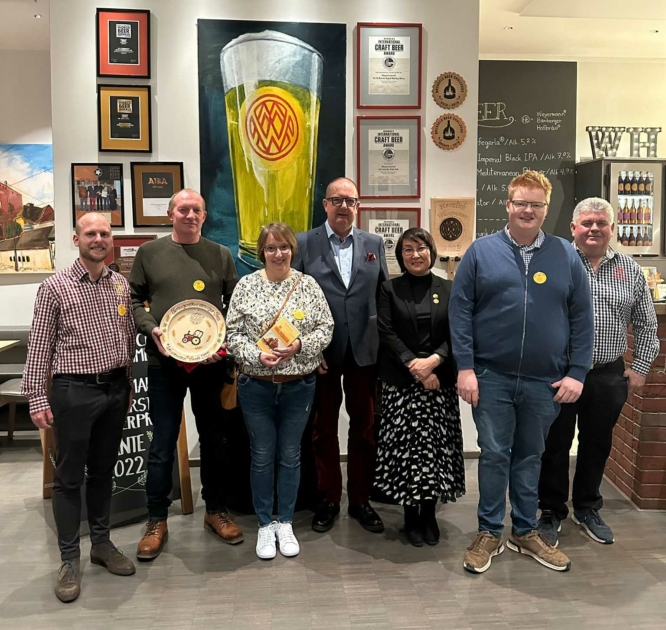 Last night we were finally able to continue our cherished tradition – the awarding of the Weyermann® Brewing Barley Producer Prize – live and in color!
With this award, which was launched in 2012, we honor the special achievements of our regional grain farmers.
It is important to us to express our appreciation to our loyal delivery partners – after all, quality begins on the field!
The traditional festive evening began with a warm welcome, followed by a tour of our company to show our farmers how our unique Weyermann® specialty malts are made from their high-quality brewing barley.
In the cozy ambience of the Weyermann® Visitors Center, our boss Thomas Kraus-Weyermann and Timo Haselmann, Deputy Team Leader Raw Materials Purchasing, then presented the idea behind the Brewing Barley Producer Award before the award ceremony began.
Each farmer received a hand-made and hand-painted plate from the traditional Schnauder & Sanke pottery workshop in Thurnau, a Weyermann® polo shirt embroidered with his name and a signed copy of the biographical-fictional story "Die Malzkönigin".
This year we awarded the following: Peter Kanis (Kasendorf), Stefan Hammon (Kasendorf), Monika Möller (Wonsees), Harald Groppweiß (Thurnau) and Gerald Erlmann (Wonsees).
A 3-course menu with the perfect choice of Weyermann® brew specialties to go along with it rounded off the successful evening.
We would like to thank our farmers for the fruitful cooperation, their loyalty to Weyermann® Malts and wish them continued a good hand in the cultivation of high-quality brewing barley!
Many thanks also go to our hard-working organization and decoration team for the wonderful preparation and support of the event as well as to the party service Ludwig for the delicious food!
https://www.weyermann.de/wp-content/uploads/2023/02/Weyermann-Braugerstenerzeugerpreis-Ernte-2022_01.jpg
1453
1536
Ebony Rogers
https://www.weyermann.de/wp-content/uploads/2019/01/weyermann-logo-brdr.png
Ebony Rogers
2023-02-17 14:53:25
2023-02-17 14:55:16
Weyermann® Brewing Barley Producer Award – Harvest 2022