Employees undergo further educational training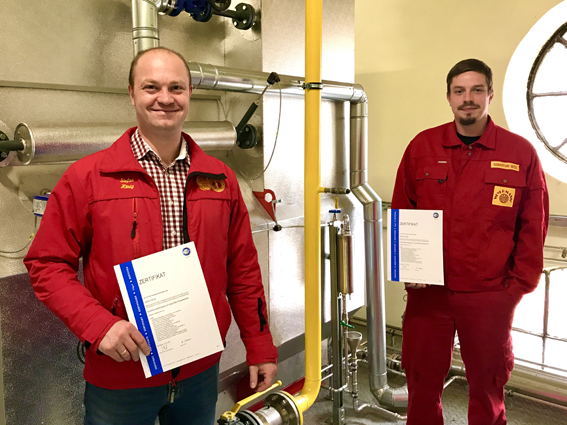 We congratulate our Weyermann® employees Stefan Hönig (left) and Sebastian Betz (right) on their successful further education! Both are now certified boiler operators.
Sebastian Betz works at our Heinz Weyermann® Roasted Malt Beer Brewery. Here, Stefan Hönig is the production manager.
Both employees attended the training course in Nuremberg at TÜV SÜD. Over a period of three weeks, they dealt with different topics regarding steam boilers. At the end they successfully passed their exam.
The maintenance of a steam boiler system requires specific knowledge of chemical and physical processes. Certified boiler operators must be familiar with different types of construction and boiler equipment as well as with the safety regulations in order to operate the system properly. In addition, economic aspects and legal requirements for environmental protection are important topics in the training of a boiler operator as well.
Both employees of the Heinz Weyermann® Roasted Malt Beer Brewery now have profound knowledge about operating the system. This is a valuable contribution to the expertise of the company and the individual skills of our employees.
https://www.weyermann.de/wp-content/uploads/2020/10/Hoenig_Betz_Weiterbildung_Kesselwaerter.jpg
425
567
gn2
https://www.weyermann.de/wp-content/uploads/2019/01/weyermann-logo-brdr.png
gn2
2020-10-22 12:43:05
2020-10-28 15:50:52
Employees undergo further educational training