Congratulations on the successful completion of training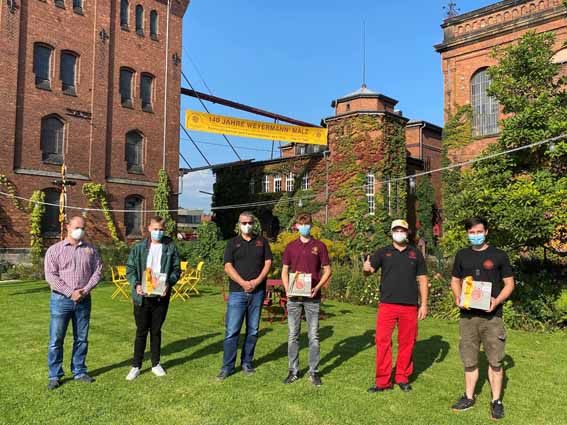 The world has now four more qualified specialists – congratulations on passing your final exams, Niklas Grün, Johannes Stürmer, Erik Postler and Rebecca Müller!
Niklas Grün completed his training as a specialist for warehouse logistics and is now employed in our Weyermann® Logistics and Distribution Center.
Johannes Stürmer is now a trained brewer and maltster and works at our neighbour, the "Hopfengarten", in Bamberg.
Erik Poster completed an apprenticeship as a specialist in food technology.
Since September he has been undergoing further educational training at a higher vocational school.
Rebecca Müller completed her training as an industrial clerk. She started another training at her dream employer – the police – in September.
For successfully completing their training and as a sign of esteem for their performed services, everyone received a photo album full of wonderful memories of their training time here at Weyermann® and an engraved keyring – the key to success.
We are happy to have laid a professional foundation for their further career path and thank all of them for their commitment in the red and yellow Weyermann® world.
Thank you as well to all instructors who supportet our apprentices in the best possible way!
Photo from left: trainee instructor Stefan Hönig, Erik Postler, trainee instructr Roland Kestel, Niklas Grün, trainee instructor Constantin Förtner and Johannes Stürmer.
https://www.weyermann.de/wp-content/uploads/2021/10/Gratulation_Ausbildungsabschluss-2021_HP.jpg
425
567
gn2
https://www.weyermann.de/wp-content/uploads/2019/01/weyermann-logo-brdr.png
gn2
2021-09-13 11:24:40
2021-10-05 11:27:17
Congratulations on the successful completion of training