Commemoration Ceremony for Dr. Fabio De Filippi & Warehouse Inauguration at Uberti SRL in Venice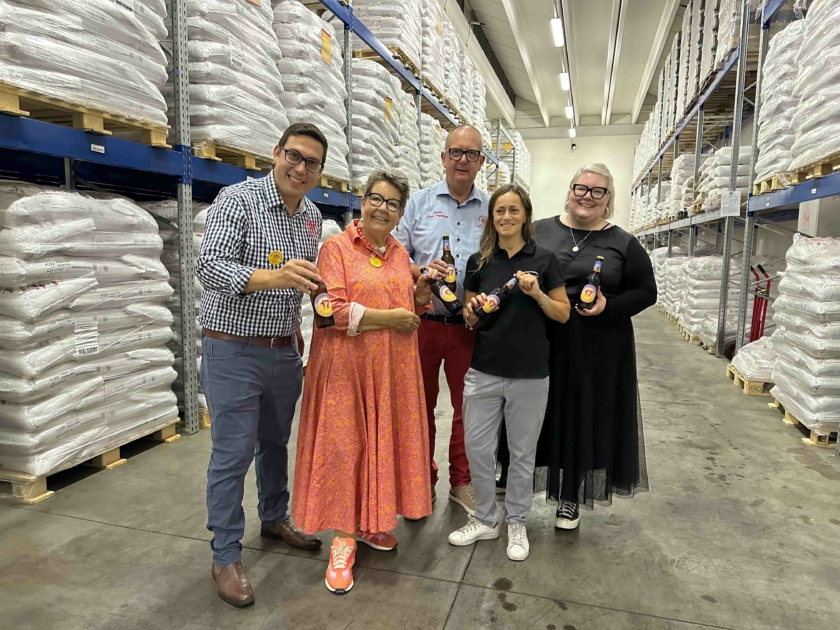 Brewers from all over Italy came to Mestre, near Venice, alongside our bosses Sabine Weyermann and Thomas Kraus-Weyermann, our junior boss Franziska Weyermann and our Weyermann® International Malting & Brewing Expert Alirio Caldera, to say goodbye to our long-time distirbution partner and companion Dr. Fabio De Filippi from Uberti SRL.
The commemoration took place in Uberti SRL's new malt warehouse, which was inaugurated during the ceremony.
Alirio Caldera opened the gathering with a lecture and talked about the development of the Weyermann® Eraclea Pilsner malt for the Italian market, which was created in close collaboration between our boss and Fabio De Filippi.The fine Italian malting barley is grown in the Eraclea area, near Venice, and offers an excellent basis for beers with a Mediterranean aroma. The Weyermann® Eraclea Pilsner malt is now a globally sought-after malt that is used on all continents to brew authentic Italian beers.
Our No. 17, the Weyermann® Eraclea Mediterranean Pilsner, is also brewed with the Weyermann® Eraclea Pilsner malt. This beer was recently awarded bronze at the World Beer Awards 2023!
After Alirio Caldera's presentation, Orsola De Filippi, daughter of Fabio De Filippi and managing partner and head of administration and sales office at Uberti, took the floor. She officially welcomed all guests and shared touching words about her father. Afterwards, the happy networking began with live music and culinary delicacies. In keeping with the occasion, the Weyermann® Eraclea Mediterranean Pilsner with a specially created label in memory of Fabio De Filippi was served.
A tour of the new warehouse warmed the hearts of our bosses. 150 pallets with malt from our family malthouse are stored there clean and tidy. Deliveries with fresh malt from our specialty malting company come in three times a week so that our Italian customers are supplied with our malt at any given time! How wonderful!
We would like to take this opportunity to thank the team at Uberti SRL for their long-standing, fruitful collaboration over the years!
How wonderful, that you have been at our side for 25 years now and have been spreading the red and yellow spirit in Italy so lovely ever since!
We are certain that Fabio De Filippi looked down on us with a smile that day and we will always think of him when we enjoy a Weyermann® Eraclea Mediterranean Pilsner beer! Cheers!
More: https://ubertive.com
By the way: our Weyermann® Nr. 17 and many other fantastic beer creations from our inhouse brewery are available in our Weyermann® Living & Drinking shop on Brennerstrasse in Bamberg and our Online-Shop! (Europe-wide shipping) https://shop.weyermann.de/en/Weyermann-beers/
https://www.weyermann.de/wp-content/uploads/2023/09/Einweihung-neues-Lagerhaus-Uberti_September-2023_01-scaled.jpg
1920
2560
Ebony Rogers
https://www.weyermann.de/wp-content/uploads/2019/01/weyermann-logo-brdr.png
Ebony Rogers
2023-09-26 11:27:05
2023-09-26 11:34:56
Commemoration Ceremony for Dr. Fabio De Filippi & Warehouse Inauguration at Uberti SRL in Venice