Apprenticeship successfully completed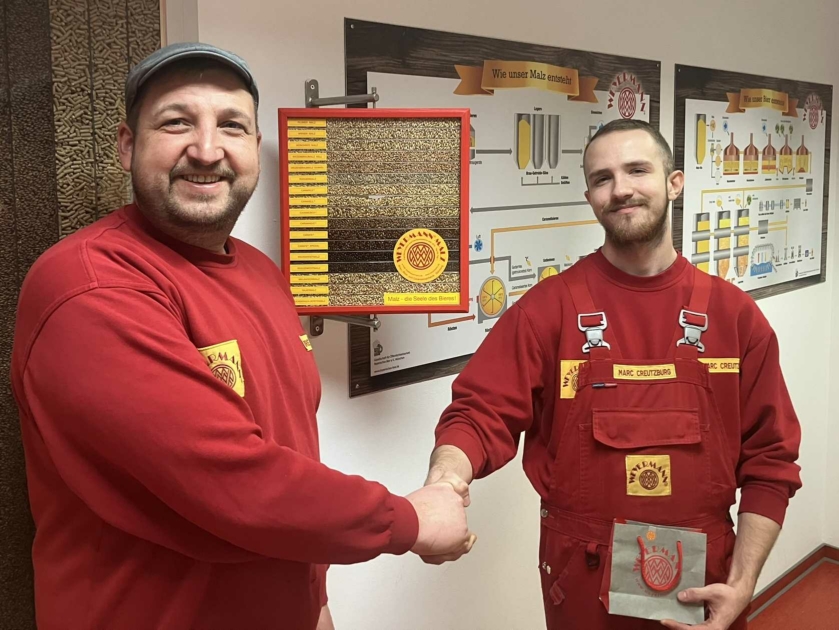 We kick off this Tuesday with wonderful news from our youth development area:
Our three trainees Jonas Paulus, Tobias Christa and Marc Creutzburg have successfully completed their final exams!
Congratulates to our three newly qualified specialists on this success!
Jonas Paulus and Tobias Christa both learned the trade of electronics technician specializing in energy and building technology at our location in Bamberg.
Marc Creutzburg completed his training as an industrial mechanic at our production site in Clingen, Thuringia.
We are happy that all three will remain members of our the red-yellow world!
Jonas Paulus and Tobias Christa will actively support the electrical engineering maintenance team in Bamberg led by our long-standing master electrician Klaus Bayer, Marc Creutzburg will support the maintenance team in Clingen led by our long-standing master electrician Pierre Sölter.
Read here what the three young specialists say looking back on their training at Weyermann® Malts:
Tobias Christa: "What I liked most about the training was the variety of tasks. I particularly remember my internship abroad in Spain. I look forward to working independently as a journeyman and being able to make my own decisions. "
Jonas Paulus: "A very special moment in my training was the completion of germination boxes 5 and 6. The moment when you saw that everything you had built and connected yourself worked was great. I am now looking forward to many new construction sites and tasks"
Marc Creutzburg: "I particularly remember the "Trainee's day" and the assembly of the germination line. What I appreciate about Weyermann® is the good cooperation with colleagues and instructors, who always had an open ear for me. I look forward to many more years in the red and yellow Weyermann® world."
We are glad that we were able to lay the foundation for their future careers together and thank them for their commitment to the red and yellow Weyermann® world.
A big thank you also goes to the trainee instructors who actively supported them along the way.
We wish the newly qualified specialists a good start and that they may continue to successfully put their acquired knowledge into practice
Photo: Team leaders Klaus Bayer and Pierre Sölter give their protégés an engraved Weyermann® key ring – the key to success – on the occasion of their successful training!
https://www.weyermann.de/wp-content/uploads/2023/03/Geschenkuebergabe-Auszubildende_Maerz-2023_01.jpg
1259
1677
Ebony Rogers
https://www.weyermann.de/wp-content/uploads/2019/01/weyermann-logo-brdr.png
Ebony Rogers
2023-03-14 09:34:58
2023-03-16 09:38:00
Apprenticeship successfully completed