Weyermann® Women's Brewing Day 2023 – From Women for Women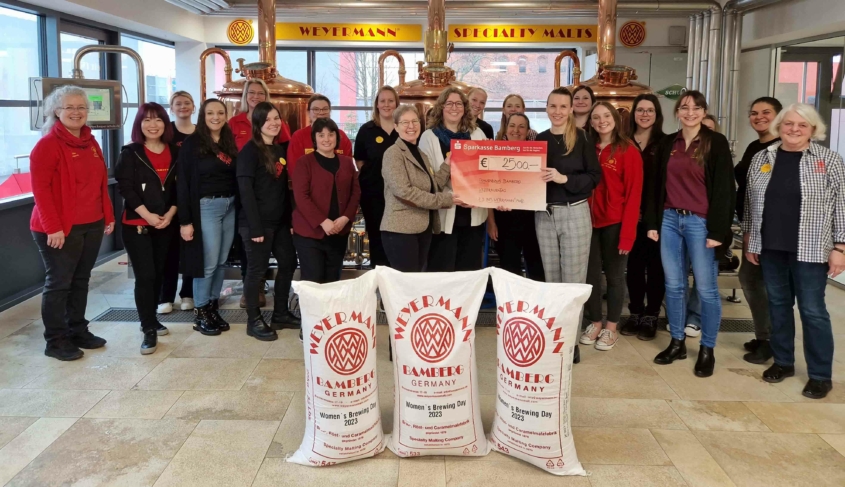 After a two-year break, we finally continued with one of our beloved traditions on yesterday's International Women's Day: The female employees of the Bamberg specialty malts manufacture brewed together for a good cause – a wonderful kick-off for this year's Womenpower@Weyermann® activities!
True to the motto "By women for women", almost 30 Weyermann® employees from different departments brewed a very special beer creation under the expert guidance of Weyermann® brewmaster Constantin Förtner and his team, the sales proceeds of which will traditionally go to the women's shelter in Bamberg.
The joint brewing event began with a brief introduction to the planned daily routine, including a presentation of the recipe and ingredients. This year's brew combines a first-class selection of Weyermann® malts, such as Weyermann® Caraaroma® and Weyermann® Carahell®, with an exquisite selection of hops and selected dry yeast from Fermentis®, creating a tasty, top-fermented summer beer. Fresh sour cherries give the whole its colorful touch, while added vanilla beans round off the taste experience aromatically.
Divided into several groups, the women eventually went to work. With combined Weyermann® women power the ladies lent a helping hand at all workstations – when it came to putting the malt in the mash tun, weighing and crushing the malt or squeezing and cutting the cherries.
Since every soft drink should always come with a suitable meal, the ladies also had the pleasure of assisting our Weyermann® Craft Baker Friedrich Rauh, with whom they baked delicious sour cherry bagels with a vanilla cream topping.
After the work was done, the employees took the opportunity to take in some refreshments in form of coffee and their freshly baked bagels and to exchange ideas about the exciting and instructive brewing day.
The icing on the cake was the traditional handing over of the check for the sales proceeds from the previous year's beer creation "Majoran Love" to the representatives of the Bamberg women's shelter. The entire amount of 2500.00 euros will benefit their local projects.
It makes us extremely proud that our "Weyerwomen" were once again able to make such a valuable contribution to the safety of women.
The freshly brewed brew will now be stored in the fermentation cellar of the Weyermann® brewmanufacture. After its completion, the alcoholic malt beverage will be available in a limited edition at the Weyermann® shop Living & Drinking from mid-May.
What the "women's beer" will ultimately be called is still open. As in previous years, all participants were allowed to let their creativity run free and submit name ideas.
However, one thing is certain: the brewing creation will be found on the Weyermann® beer shelf under the No. 83 (date: March 8th = International Women's Day)!
Cover photo: Silke Thomas (r., Weyermann® Marketing Manager) hands over the check to Bettina Hainke (middle, head of the women's shelter Bamberg) und Simone Stroppel (l., manager of the initiative SkF Bamberg = Social Service of Catholic Women)
https://www.weyermann.de/wp-content/uploads/2023/03/Weyermann-Womens-Brewing-Day-2023_05-scaled.jpg
1475
2560
Ebony Rogers
https://www.weyermann.de/wp-content/uploads/2019/01/weyermann-logo-brdr.png
Ebony Rogers
2023-03-09 10:52:10
2023-03-09 11:01:44
Weyermann® Women's Brewing Day 2023 – From Women for Women