Weyermann® Triple Cask Edition Single Malt Whisky Release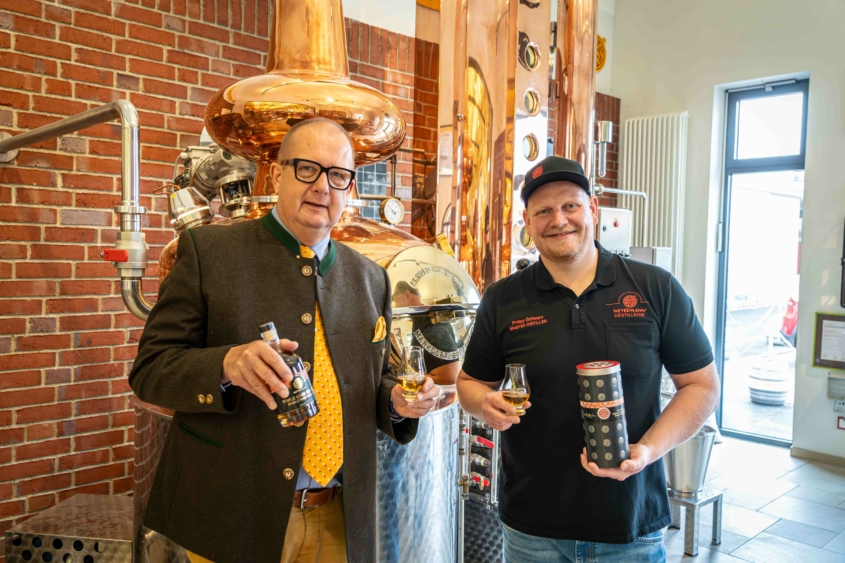 On November 11th, 2023, our latest whisky creation, the Weyermann® Triple Cask Edition Single Malt Whisky, celebrated its release!
The Weyermann® Triple Cask Edition Single Malt Whisky is a fantastic blend of three selected barrels.
In the Weyermann® barrelroom, our new single malt whisky matured in two ex-bourbon barrels and a quarter cask from the island of Islay before our master blender combined the three barrels to create a perfect single malt whisky.
On the nose, our latest specialty from the Weyermann® distillery, which was distilled purely from selected Weyermann® specialty malts, convinces with fruity notes of ripe apricot paired with orange and a hint of caramel.
On the palate, the full bouquet of cocoa, toffee and vanilla unfolds combined with a balanced, delicate nuance of wood. The finish is fine and mellow with a gentle grace of honey.
The traditional release of our latest Weyermann® spirit once again attracted numerous whisky fans this year. At 10 a.m. sharp, the first customers arrived in our festively decorated shop to stock up on one or two bottles of the limited edition whisky.
This year our Weyermann® distiller Laurenz Schorner, Weyermann® product manager for malt, beer & spirits Roland Rommler, Weyermann® Beer Academy employee Tim Zenglein and Weyermann® Head of R & D Michael Woess accompanied the successful release. Together they took plenty of time to explain the variety of Weyermann® spirits to whisky lovers, regular customers and Christmas shoppers.
The limited edition of our Weyermann® Triple Cask Edition Single Malt Whisky is available in our Weyermann® shop Living & Drinking –come on over, our team is happy to assist and give advice!
Opening hours:
Monday – Friday: 10.00am – 6.00pm
Advent Saturdays: 10.00am – 4.00pm
Free parking spaces are available right in front of the shop entrance!
© photos: Daniel Löb, Lara Müller
https://www.weyermann.de/wp-content/uploads/2023/11/Weyermann®-Triple-Cask-Edition-Single-Malt-Whisky-Release_November-2023_01.jpg
5333
8000
Ebony Rogers
https://www.weyermann.de/wp-content/uploads/2019/01/weyermann-logo-brdr.png
Ebony Rogers
2023-11-13 13:33:35
2023-11-15 13:40:25
Weyermann® Triple Cask Edition Single Malt Whisky Release