Weyermann® on tour: Brewers Forum 2023 Prague, Czech Republic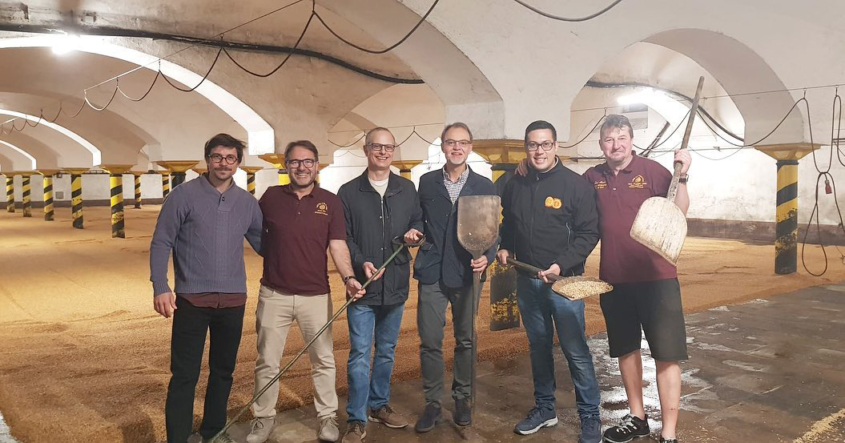 Four eventful days with technical lectures, exciting input, good conversations and tasty beers lie behind our Weyermann® Malting & Brewing Expert Alirio Caldera.
As a Weyermann® ambassador he first visit the Brewers Forum 2023 in Prague to discover the latest industry trends and developments.
During his stay in the Czech capital, he enjoyed delicious beer specialties brewed with Weyermann® malts in the famous U Fleku brewery together with Carlos Nuñez from Ricardo Molina, our Weyermann® distribution partner for Spain and Portugal, and several Spanish Weyermann® customers.
A joint visit to the Ferndinand floor-malting facility in Benesov rounded off his business trip to the Czech Republic. Our Weyermann® floor-malts, such as the Weyermann® Floor-Malted Bohemian Pilsner Malt and the Weyermann® Floor-Malted Bohemian Wheat Malt, are produced in the traditional floor malting plant founded in 1872.
https://www.weyermann.de/wp-content/uploads/2023/06/Brewers-Forum-2023-Prague_Besuch-Ferndinand-Tennenmaelzerei-in-Benesov_01.jpg
553
1055
Ebony Rogers
https://www.weyermann.de/wp-content/uploads/2019/01/weyermann-logo-brdr.png
Ebony Rogers
2023-05-31 11:13:01
2023-06-12 11:15:59
Weyermann® on tour: Brewers Forum 2023 Prague, Czech Republic