Weyermann® Brewing Barley Producer Award – Harvest 2020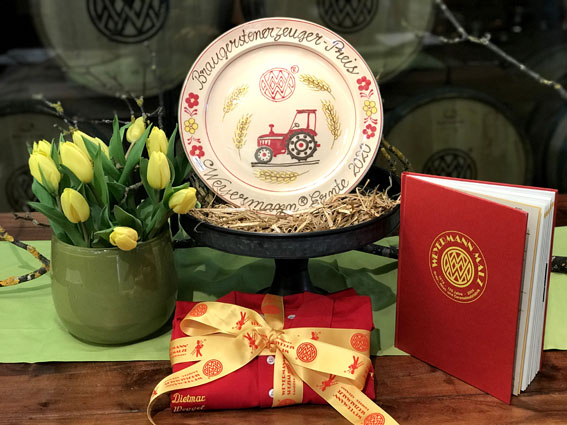 With great pleasure we've traditionally awarded the best of our more than 500 farmers with the Weyermann® Brewing Barley Producer Award – Harvest 2020.
With this award, which was launched in 2012, we honor the special efforts of our regional grain farmers to grow high-quality brewing barley.
The brewing barley from our award-winning farmers meets all the important criteria for producing the best quality products for our customers in 135 countries. With their constant readiness to deliver, they make a significant contribution to the sustainable cooperation and development of our grain reception in Leesau.
The promotion of regional grain cultivation in Upper Franconia is important to us. That is why we are developing our raw material location in Leesau into the most attractive grain collection location in the region. We have been investing continuously since the takeover in 2006.
In this way, we offer our local farmers security for cultivation of important types of grain such as brewing barley, brewing rye and brewing wheat, as well as the possibility of direct marketing without intermediaries.
The lucky winners of this year´s Weyermann® Brewing Barley Producer Award – Harvest 2020 are: Bernd Rahm (Kasendorf), Heinrich Dauer (Stadelhofen), Thorsten Hofmann (Gößweinstein), Christine Kauper (Thurnau) and Dietmar Weggel (Wonsees).
Each farmer receives a hand-made and hand-painted plate from the traditional pottery in Thurnau, a Weyermann® polo shirt embroidered with his name and a Weyermann® history, signed by Sabine Weyermann herself.
Due to Corona, we chose to send the presents via mail.
The traditional festive evening with a tour of the company and a joint dinner with the Weyermann® Management and the Grain Purchasing team as well as Grain Reception Leesau team will be rescheduled as soon as possible.
We look forward to the continued good cooperation and wish all our farmers a good hand with the cultivation of brewing barley!
https://www.weyermann.de/wp-content/uploads/2021/03/Weyermann_Braugerstenerzeugerpreis-2021-Ernte-2020_Startbild.jpg
425
567
gn2
https://www.weyermann.de/wp-content/uploads/2019/01/weyermann-logo-brdr.png
gn2
2021-03-02 11:57:15
2021-03-18 12:20:10
Weyermann® Brewing Barley Producer Award – Harvest 2020