Weyermann® Brewing Barley Producer Award – Harvest 2019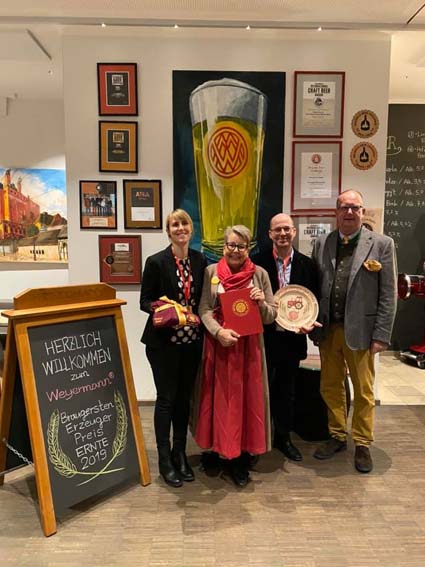 Yesterday evening we once again awarded the best of our more than 500 farmers with the Weyermann® Brewing Barley Producer Award!
With this price, which was first awarded in 2012, we want to honour the special efforts of the farmers to grow high quality brewing barley.
At the same time, we want to promote local brewing barley cultivation in Upper Franconia.
In this year we awarded Martin Hupfer from Wonsees, Jürgen Güldner from Kasendorf, Bernd Täuber from Thurnau, Andreas Schmitt from Weismain and Michael Greim from Marktschorgast.
After a warm welcome in our lovingly decorated visitors center, our guests of honor first enjoyed a guided tour through our family company.
Then the honouring of our loyal suppliers was on the program – which was done by Sabine Weyermann and Thomas Kraus-Weyermann.
Every farmer was awarded with a handmade plate, which was designed especially for this occasion from the traditional pottery in Thurnau. They also got a polo shirt with their names embroidered and a Weyermann® history book, which was signed by Sabine Weyermann herself.
The highlight of the evening was a delicious 3-course meal, accompanied by a selection of matching Weyermann® beers.
What a successful and wonderful evening with our loyal farming partners!
A big thank you goes to our organisation team for the great preparation and the team of Aishagul Schleicher and Werner Lindner for accompanying the event. Also to Ulrike Buhrmann, Weyermann® head decorator for the wonderful decoration, Tim Zenglein for the successful beer presentation and party caterer Ludwig for the delicious food!
We are looking forward to a further cooperation with our more than 500 local farmers, who are very valuable and loyal to us. We raise our glasses to a good harvest 2020.
https://www.weyermann.de/wp-content/uploads/2020/02/Braugerstenerzeugerpreis-Ernte-2019_Startbild.jpg
567
425
gn2
https://www.weyermann.de/wp-content/uploads/2019/01/weyermann-logo-brdr.png
gn2
2020-02-19 10:25:19
2020-09-03 15:29:39
Weyermann® Brewing Barley Producer Award – Harvest 2019