Weyermann® becomes double world world champion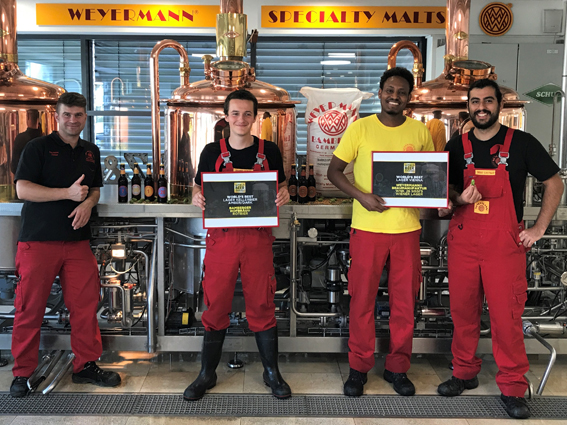 Wonderful news from London: Our Weyermann® Sissi´s Wiener Lager and Bamberger Hofbräu® Rotbier win at the World Beer Awards 2020.
The Weyermann® Sissi´s Wiener Lager was awarded as World´s Best Lager Vienna and the Bamberger Hofbräu® Rotbier as World´s Best Lager Kellerbier Amber/Dark.
The Bamberger Hofbräu® Rotbier appears with a brilliant copper red color and malty aromatic character. We created wonderful toffee flavors and honey notes by using our Barke® Pilsener malt. The fine aromas of red berries and apricots complete this Franconian classic.
Our Weyermann® Sissi´s Wiener Lager also relies on the excellent flavor of the historic Barke® barley variety. The Austrian beer style is characterized by a subtle bitterness and a fine caramel sweetness. The use of five Weyermann® malts creates some wonderful aromas of slight sweetness and mild roasted malt.
Master Brewer Constantin Förtner is thrilled about the victories and emphasizes the role of the Barke®: "It is one of the most aromatic brewing barley varieties in the world. The winner beers show that the Barke® malts lay the foundation for excellent beers full of character".
Further winners from the Weyermann® brew manufacture are our Bamberger Hofbräu® Exquisator with gold, Weyermann® Neunundneunzig with gold, Bamberger Hofbräu® Rauch with silver, Weyermann® RyePA with bronze and Weyermann® Schlotfegerla® as Country Winner.
The annually held World Beer Awards divide the international beers into nine main categories and associated sub-categories. National tasting panels select the respective national champions. Those which make it to the final round then compete as overall category winners. In addition, beers are selected as Country Winners and awarded with gold, silver and bronze.
This year, more than 60 international experts evaluated over 2,200 submitted beers from over 50 countries. These were wrapped in a black cover and shipped to Asia, Canada, Brazil and within Europe. This year, the judges tasted the beers at home and connected for each session online.
We are proud of our master brewer Constantin Förtner and his team for this great success!
More: www.worldbeerawards.com
Photo (from left to right): Master brewer Constantin Förtner with his apprentices Johannes Stürmer, Bisrat Tsegay and our brewer Diego Castillo
https://www.weyermann.de/wp-content/uploads/2020/09/Weyermann-wird-zweifacher-Weltmeister_World-Beer-Award-2020.jpg
425
567
gn2
https://www.weyermann.de/wp-content/uploads/2019/01/weyermann-logo-brdr.png
gn2
2020-09-23 14:49:21
2020-09-30 14:54:35
Weyermann® becomes double world world champion