Weyermann® Specialty Malts Season Greetings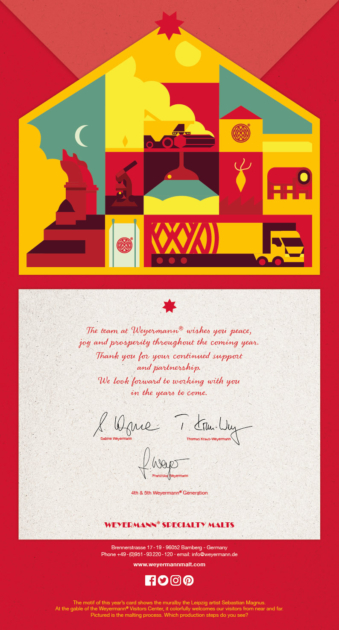 Dear friends of the red & yellow world of Weyermann®!
Christmas is around the corner!
Another crazy year lies behind us. We would like to wish you a very Merry Christmas!
Enjoy the Christmas season with all its contemplativeness, special flair and touching spirit.
We look forward to a happy reunion & another year of harmonious cooperation with you in the New Year!
What is Christmas? It is tenderness for the past, courage for the present, hope for the future. – Agnes M. Pharo
2022 we have decided to make a donation to the project "Kinderhilfe Siebenbürgen e.V."
Kinderhilfe Siebenbürgen e.V. (Children's Aid Transylvania Association) is a non-profit organization that supports children from socially disadvantaged families in Romania.
The aid organization runs various projects around Sibiu (Hermannstadt) in Romania to support underprivileged families and create a basis for a better life.
The projects include programs in the areas of education/training support, health and nutrition, as well as extensive family support (children's home and childcare, care for single mothers, educational work, and much more).
Several times a year, the association organizes an aid transport. One transport includes about 16 – 17 tons of relief goods (clothing, dishes, prams, stationery, hygiene items, toys, blankets, etc.).
Families in Sura Mare, Sibiu and Cisnadie are the main beneficiaries of the relief goods.
Best wishes for the coming holidays to all of you …..
… from all of us at Weyermann®.
https://www.weyermann.de/wp-content/uploads/2022/12/Weyermann-Weihnachtskarte_2022_EN.jpg
1474
794
Ebony Rogers
https://www.weyermann.de/wp-content/uploads/2019/01/weyermann-logo-brdr.png
Ebony Rogers
2022-12-24 08:00:08
2022-12-21 11:51:24
Weyermann® Specialty Malts Season Greetings