Weyermann® milestone – commissioning of the new germination boxes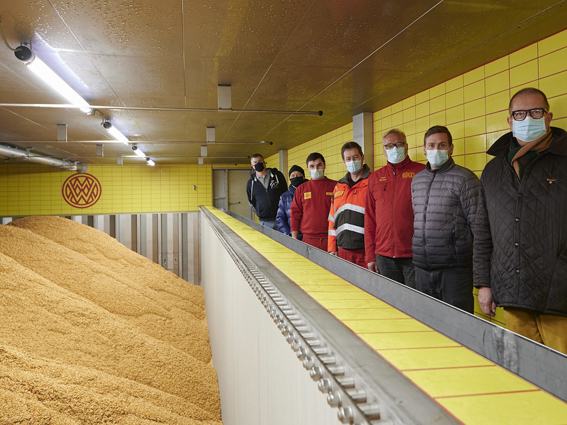 Our new germination boxes 5 and 6 were successfully put into operation. At first, they will be thoroughly tested. All processes have to be checked and further fine tuning has to be done.
For this purpose, germination box 5 was filled for the first time with freshly steeped grain. 100 tons of barley poured into the Saladin box and will now germinate for several days. This has already been done in the neighboring box 6. There the green malt is ready and the germination box is being pulled. This means that the green malt can be transported to the kiln via the brand new stainless steel conveyor belts.
The new germination boxes are part of the extensive reconstruction of our historic malt house. Here the building is being completely redesigned from the inside. State-of-the-art equipment will be installed inside and the familiar historical Weyermann® ambience will be maintained outside – a perfect symbiosis of old and new.
We are thrilled to reach this milestone. With this positive news we gain energy to realize our further goals.
We thank our employees and all companies involved! The following companies played a key role in this project, our special thanks go to architecture office Bottler, engineering office Schlicht + Fischer, construction company Angermüller, tile company Drescher, company Lausmann for the plant of the germination box and the company Gerlitz for the control engineering.
Our employees of the electrical engineering and locksmith's department took over the planning, the line construction and further decisive construction matters.
What a remarkable teamwork!
https://www.weyermann.de/wp-content/uploads/2020/11/Inbetriebnahme-Keimkasten-5-und-6_Nov2020_Startbild.jpg
425
567
gn2
https://www.weyermann.de/wp-content/uploads/2019/01/weyermann-logo-brdr.png
gn2
2020-11-18 13:23:36
2020-12-23 10:30:26
Weyermann® milestone – commissioning of the new germination boxes