Weyermann® wins at the European Beer Star 2020!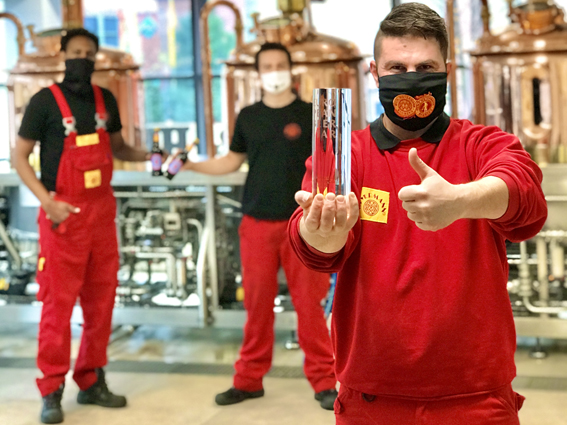 Wonderful news from the European Beer Star 2020: The Weyermann® Bamberg Rogg´t wins bronze!
At one of the world´s most renowned beer competitions, the beer with the number six wins – the Weyermann® Bamberg Rogg´t. In the category ´Beer with alternative Cereals´ the beer is awarded with Bronze.
The chestnut brown rye beer creates a wonderful taste experience with nutty aromas and bread-like character. A creamy mouthfeel gives the beer its uniqueness. "Only the rye can do this. In combination with finest specialty malts, this beer creates a unique harmony in taste. A true specialty", states master brewer Constantin Förtner after the results were announced.
The European Beer Star is organized by the Association of Private Breweries in Germany since 2004. It has developed into one of the most important beer competitions worldwide. After 2014, this is the second time that the Weyermann® Brew manufacture succeeds at the competition.
With 2.036 beers from 42 countries of all continents, the European Beer Star registers a worldwide unique high number of participants in the challenging Corona year. A 66-strong jury consisting of master brewers, beer sommeliers and renowned beer connoisseurs came together from all over Europe. In a two-day blind tasting session at the beginning of October, the experts selected the best beers in one of the 70 categories. Only one gold, silver and bronze medal is awarded per category.
We congratulate Constantin Förtner and his international team from the Weyermann® brew manufacture for this great success! We also toast to all Weyermann® customers, who are among the winners as well.
More: www.european-beer-star.de/ebs-en/
Photo (from left to right): Apprentices Bisrat Tsegay and Johannes Stürmer with brew master Constantin Förtner
https://www.weyermann.de/wp-content/uploads/2020/12/European-Beer-Star_Weyermann-Roggt_Bronze.jpg
425
567
gn2
https://www.weyermann.de/wp-content/uploads/2019/01/weyermann-logo-brdr.png
gn2
2020-11-12 17:19:59
2020-12-23 10:22:15
Weyermann® wins at the European Beer Star 2020!