Gold and Silver for our Weyermann® Brewmanufacture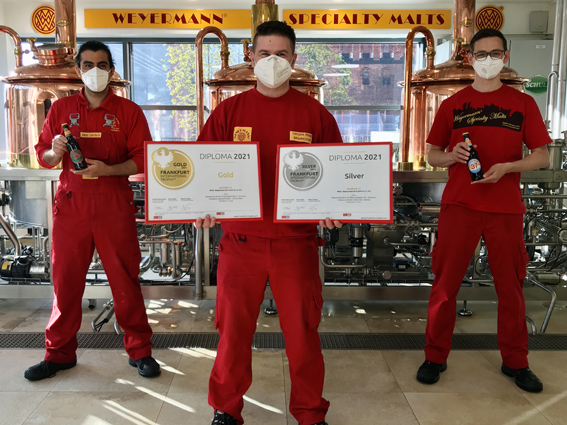 Great news from Frankfurt: Our Weyermann® Brewmanufacture wins again at the Frankfurt International Beer Trophy, this time with two beers. The Weyermann® No. 34 Rauchbier Bock was awarded gold. Silver goes to our Weyermann® No. 37 Rheinaufwärts Alt. Both beers are craft brewed at the Weyermann® Brewmanufacture by master brewer Constantin Förtner and his international team.
Congratulations to the team from Weyermann® Brewmanufacture for this great success!
With its fine smoky notes, our Weyermann® No. 34 Rauchbier Bock quickly reveals its Bamberg origin. Paired with the subtle roasted aromas of selected Weyermann® specialty malts, the bottom-fermented strong beer presents itself in a warm chestnut brown.
Related in color, yet different in aroma, the Weyermann® No. 37 Rheinaufwärts Alt offers a flavorful excursion to the west of Germany. Top-fermented, mild and pure in taste, the Altbier with its fine aromas of chocolate and caramel is definitely worth the trip.
Both winning beers are of course available in our store Weyermann® Living and Drinking!
The Frankfurt International Trophy is an international competition for wines, beers and spirits. In the 4th edition, more than 3.000 products from 50 countries were submitted. This year, 958 winners receiving a prestigious award. The judging is carried out by an international jury of experts, brewmasters, beer sommeliers, and journalists.
https://www.weyermann.de/wp-content/uploads/2021/05/frankfurt-beer-trophy2021.jpg
425
567
gn2
https://www.weyermann.de/wp-content/uploads/2019/01/weyermann-logo-brdr.png
gn2
2021-04-22 14:11:46
2021-05-03 14:14:03
Gold and Silver for our Weyermann® Brewmanufacture