Apprenticeships successfully completed!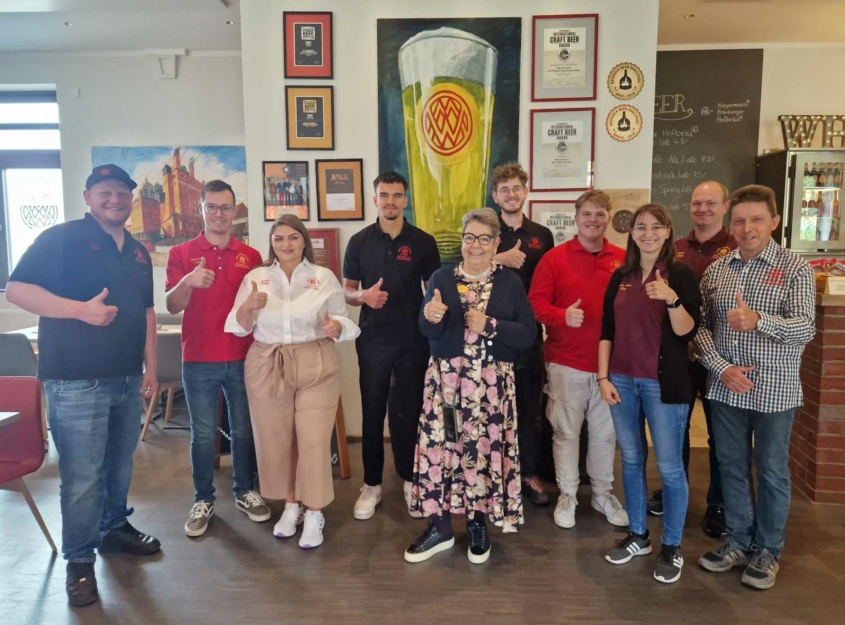 We have wonderful news to share from our ​​youth development: our trainees Laurenz Schorner, Moritz Haßfurth, Lars Imhof, Yannick Schüler, Marlon Jacob and Marlon Stephan have successfully passed their final exams!
The entire Weyermann® team congratulates our newly qualified specialists!
Laurenz Schorner is now actively supporting our distillery manager Philipp Schwarz as a distiller.
Moritz Haßfurth strengthens our Leesau team around Werner Lindner and Hans Wachtel as a process technologist for mills and grain management.
As a freshly qualified specialist in food technology, Lars Imhof will strengthen our production team in Bamberg from now on.
Marlon Jacob, a trained industrial mechanic, now complements our maintenance team in Clingen.
We are glad that you all remain part of our red and yellow family!
******
Marlon Stephan has completed his training as an electronics technician for industrial engineering and plans on achieving his A-Levels qualification and studying afterwards.
As a trained professional driver, Yannick Schüler will continue his career in another company.
Thank you both for all the good you have brought to our red and yellow world and good luck for your future!
******
We are happy that together we've been able to lay the foundation for the future career of the young employees and thank them for their commitment in the red and yellow Weyermann® world.
A big thank you also goes to our instructors who actively supported them along the way.
We wish the newly qualified specailists a wonderful start into their professional life and that they may continue to successfully put their acquired knowledge into practice!
Photo f.l.t.r.: Philipp Schwarz, Sebastian Lutz, Jennifer Wichert, Marlon Stephan, Sabine Weyermann, Laurenz Schorner, Moritz Haßfurth, Luisa-Maria Klug, Stefan Hönig and Hans Wachtel
https://www.weyermann.de/wp-content/uploads/2023/08/Ausbildungsabschluss-2023.jpg
1388
1877
Ebony Rogers
https://www.weyermann.de/wp-content/uploads/2019/01/weyermann-logo-brdr.png
Ebony Rogers
2023-08-22 19:00:49
2023-08-22 15:30:39
Apprenticeships successfully completed!