Weyermann® Brewing Barley Producer Award – Clingen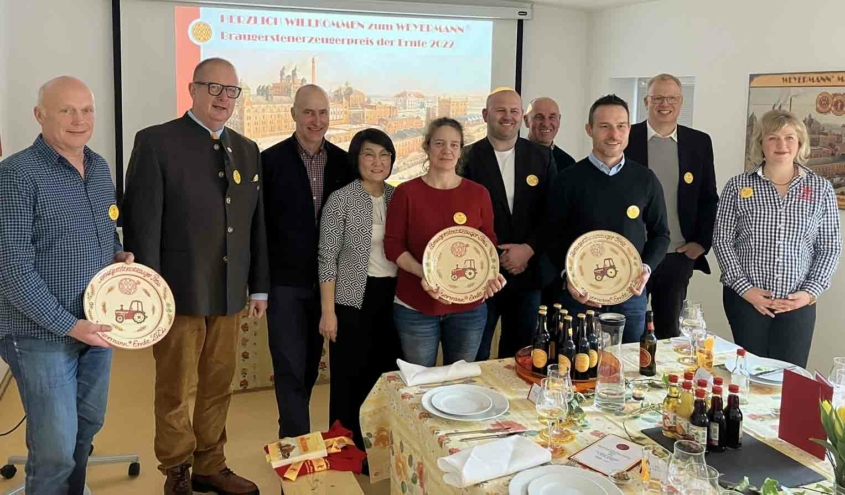 For the first time we awarded our traditional Weyermann® brewing barley producer award to our farmers, who deliver their products directly to our production site in Clingen.
Clingen is located in the Thuringian Basin. The region is one of the best growing areas for barley in Germany. The climatic conditions and soil composition allow barley to grow excellently and bring unique terroir notes into the grain.
It is important to us to reward our farmers, who supply us with high-quality raw materials, for their commitment.
With the awarding of the Weyermann® Brewing Barley Producer Award, a wonderful opportunity was created for this in 2012 – for us a nice way to show our appreciation and at the same time strengthen the bond with our supply partners.
Weyermann® managing director Thomas Kraus-Weyermann, fourth generation, opened the event with a warm welcome.  While our guests strengthened themselves with coffee, cake and pretzels, Stefanie Augner, grain purchase, then presented the idea behind the Brewing Barley Producer Award and gave a brief overview of the companies to be awarded.
Before it came to the highlight of the day, the award ceremony, our farmers learned how we use the latest technology to produce our craft terroir malts from their grain products during a guided tour with Thomas Kraus-Weyermann and Jens Hell, Weyermann® operations manager in Clingen.
At this point we are happy to share the words of the guest of honor Mario Schütze, mayor of the city of Clingen, who, impressed by our plant, expressed his thanks to the Weyermann family. It makes him proud to have such a future-oriented, sustainable company in town!
As part of the award ceremony, each farmer received a hand-made and hand-painted plate from the traditional pottery workshop Schnauder & Sanke in Thurnau, a Weyermann® polo shirt embroidered with his name and a signed copy of the biographical-fictional story "Die Malzkönigin".
The Weyermann® brewing barley producer award went to the agricultural society Prießnitz (supply partner since 1991), the Peter farm from Greußen and the Agrar GmbH Greußen.
As at our event in Bamberg, a 3-course menu with a perfect choice of Weyermann® brew specialties rounded off the successful day.
We would like to thank our farmers for the fruitful cooperation, their loyalty to Weyermann® Malts and wish them continued a good hand in the cultivation of brewing barley!
Our thanks also go to the Bistro Kranert in Greußen for the delicious food and to Yvonne Klar-Krenz, Florisitk "La Fleur", for the beautiful flower decoration!
Last but not least, we would like to thank our efficient Weyermann® organization team for the wonderful preparation and support of the event – well done!
https://www.weyermann.de/wp-content/uploads/2023/03/Braugerstenerzeugerpreis-Clingen_Maerz-2023_01.jpg
895
1527
Ebony Rogers
https://www.weyermann.de/wp-content/uploads/2019/01/weyermann-logo-brdr.png
Ebony Rogers
2023-03-16 10:00:10
2023-03-16 10:04:37
Weyermann® Brewing Barley Producer Award – Clingen