The Weyermann® 'MalzköniGIN' gin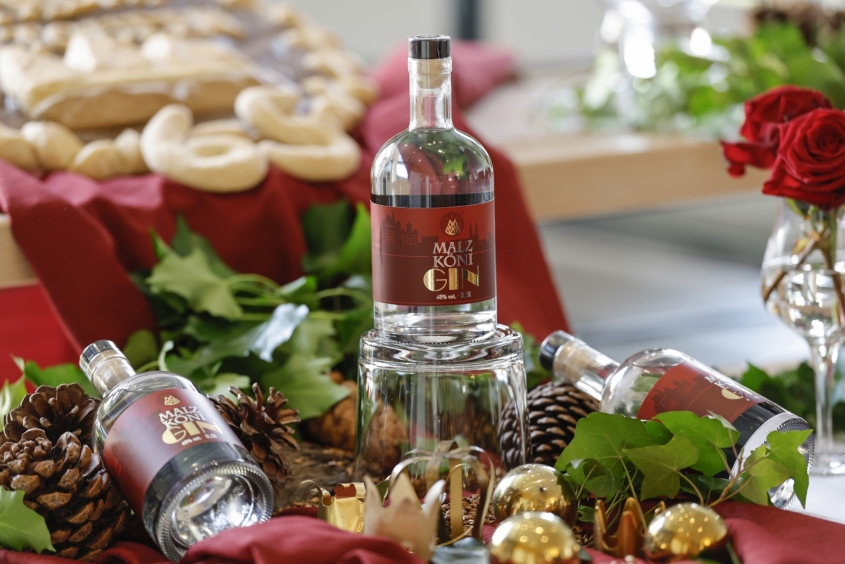 With the Weyermann® 'MalzköniGIN' gin Sabine Weyermann received a very special present on the occasion of her 65th birthday.
The special feature lies both in the unique spirit itself and in the Malty Tonic Water, which was specially produced for it – the first tonic water of its kind produced with Weyermann® malt extract, manufactured in the Weyermann® brewmanufacture!
The 'MalzköniGIN' is a creation of 17 exquisite botanicals. In addition to juniper and orange, the Weyermann® Special W® and selected herbs, which are also used in Bach flower therapy, give the gin its balanced character. The fine composition convinces with notes of juniper paired with orange and lavender. The finish is persistently soft with pleasant floral and herbal notes.
The innovative Malty Tonic Water – refined with Weyermann® Bavarian Pilsner Malt Extract – gives the gin its golden color!
With this thoughtful, magnificent gift, the Weyermann® team has once again demonstrated its creative and innovative strength – how wonderful!
How lovely of Sabine Weyermann to share this exclusive taste experience with her employees by giving each team member a mini gin including Malty Tonic Water as a thank you present!
We say thank you to our boss for this kind gesture and will gladly enjoy the 'MalzköniGIN' gin including Malty Tonic Water in her honor!
https://www.weyermann.de/wp-content/uploads/2023/05/MalzkoeniGIN_MA-Geschenk_02.jpg
1067
1600
Ebony Rogers
https://www.weyermann.de/wp-content/uploads/2019/01/weyermann-logo-brdr.png
Ebony Rogers
2023-05-25 16:03:55
2023-05-30 16:07:38
The Weyermann® 'MalzköniGIN' gin