"Isaria 1924®" officially included in the USPTO trademark register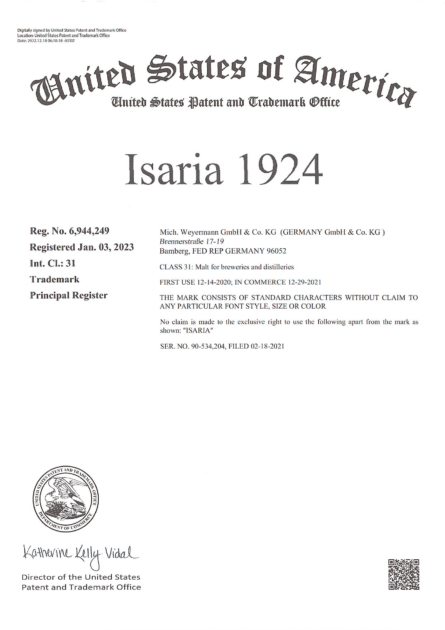 We have received wonderful news from the United States: the registration of our "Isaria 1924®" brand has now been officially confirmed!
This officially completes the registration process and our trademark enjoys full protection in the USA. As early as February 2021, we registered the trademark "Isaria 1924" in the USA as a national word mark.
Since then, it has gone through a multi-step registration process, at the end of which the trademark was included in the trademark register of the USPTO (United States Patent and Trademark Office) and the certificate was issued.
The youngest member of our heirloom malt series, the Weyermann® Isaria 1924® has been a registered trademark in Germany, the European Union, Brazil and Canada since 2022.
The malting barley variety Isaria was officially approved for commercial use in 1924, making it the oldest summer malting barley ever bred for brewing purposes. Weyermann® Malts has revitalized this historical malting barley variety in recent years and, with the Weyermann® Isaria 1924® produced from it, has added a wonderful malt to its heirloom malt portfolio.
The Isaria 1924® gives beers a malty taste and a soft, unique nutty aroma.
It goes without saying that the best beer can only be brewed from high-quality malt and that the production of high-quality malt products is a labor, capital and research-intensive undertaking.
It is therefore important for our Weyermann® distribution partners and customers worldwide that no third-party products can appear under the Weyermann® brand name!
For this reason, it is essential for us to defend our unique Weyermann® value chain through appropriate branding and international trademark protection – from high-quality raw materials of agriculture, to modern processing methods in the malting plant, to excellent brewing properties in the brewhouse, and of course to the unique taste experience of the high profile beer-drinking end user.
We are delighted with the registration of Isaria 1924® as a national word mark in the USA and would like to take this opportunity to thank our employee Tanja Kopsch, who looks after all matters relating to trademark protection at Weyermann® so attentively!
https://www.weyermann.de/wp-content/uploads/2023/02/Urkunde_ISARIA-1924®_2023-01-03.png
2338
1653
Ebony Rogers
https://www.weyermann.de/wp-content/uploads/2019/01/weyermann-logo-brdr.png
Ebony Rogers
2023-02-09 13:51:23
2023-02-09 13:51:52
"Isaria 1924®" officially included in the USPTO trademark register