Franconian quality whisky from the Weyermann® distillery in Bamberg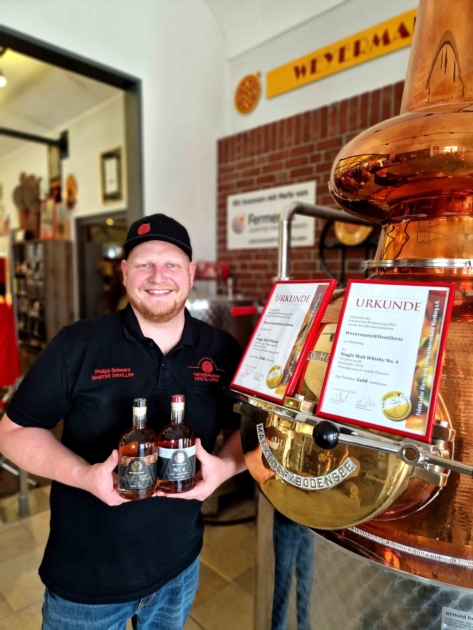 The "shower of gold" for the Weyermann® distillery continues: two Weyermann® whiskys were awarded gold as part of the Franconian award of the Franconian Small and Fruit Distiller Association Würzburg!
The award-winning fine spirits, the Weyermann® Single Malt Whisky No. 4 and the Weyermann® Double Cask Single Malt Whisky were just recently awarded gold at the state awards for whiskys, fine brandies and liqueurs of the State Association of Small and Fruit Distillers North-Württemberg!
Created from four selected barrels, stored and aged for four years in the Weyermann® barrelroom. The result: the wonderfully balanced Weyermann® Single Malt Whiskey No. 4.
Characteristic of the fourth whisky from the Weyermann® distillery are its fine nuances of dried fruit, chocolate and roasted nuts, which are rounded off in a wonderfully mild finish.
The latest creation from the Weyermann® distillery, the Weyermann® Double Cask Single Malt Whisky, comes with wonderful notes of cocoa and ripe banana. The clearly pronounced cocoa is surrounded by orange notes. This high-proof noble spirit aged for six years in a cask made of European oak and a sherry cask to perfection.
Once again we congratulate our Weyermann® Master Distiller Philipp Schwarz on this well-deserved recognition of his work!
It's awesome, that the quality of our products is also recognized at a regional level!
*********
The Franconian award takes place every 2 years. The sensory assessment and analysis of the submitted samples took place at the Bavarian State Institute for Viticulture and Horticulture.
https://www.weyermann.de/wp-content/uploads/2023/07/Fraenkische-Praemierung_Fraenkische-Klein-und-Obstbrennerverband-Wuerzburg-e.V.jpg
2048
1536
Ebony Rogers
https://www.weyermann.de/wp-content/uploads/2019/01/weyermann-logo-brdr.png
Ebony Rogers
2023-07-24 09:35:14
2023-07-31 09:37:37
Franconian quality whisky from the Weyermann® distillery in Bamberg