Development status of brewing barley Isaria for the Weyermann® Isaria 1924® in the Thuringian Basin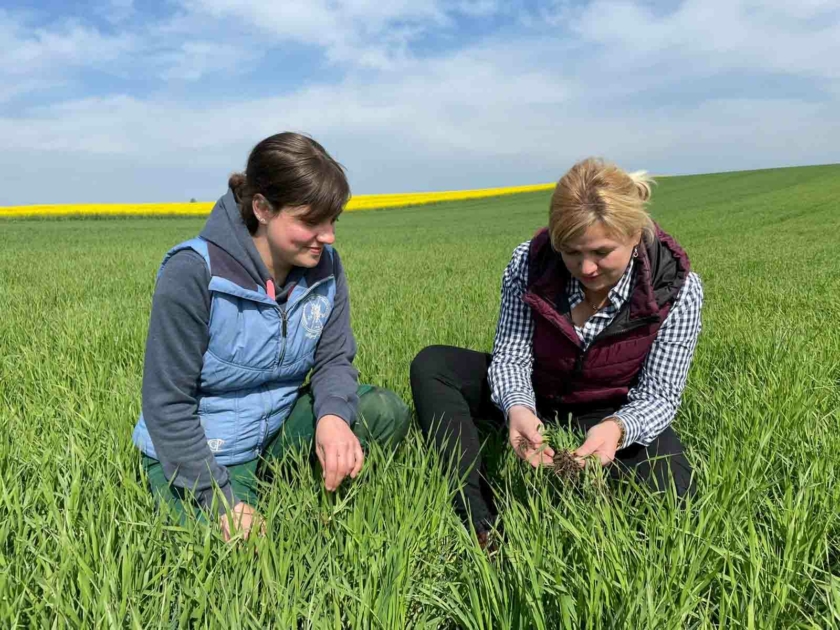 Stefanie Augner, employee in the Weyermann® grain purchase department, shared a promising update on the development status of our historic brewing barley variety Isaria.
She visited the cultivation field of our supply partner Wolfgang Peter in Greußen, Thuringia, close to our Weyermann® plant in Clingen, and got an idea of the current development status of the brewing barley.
After successful sowing with a seed rate of 390 grains/m², the brewing barley is currently in a good stage of development with main tillering and formation of the ears.
The precipitation of approx. 145 mm contributed to a healthy development. Thanks to the rainfall in April (50mm) and temperatures of up to 20 degrees, the plant development became evident.
The Thuringian Basin is one of the best growing areas for summer brewing barley.
Now we wish for a little more rain….
**********
The summer brewing barley variety Isaria was officially approved for commercial use in 1924. It is therewith the oldest summer brewing barley ever bred for brewing purposes.
Weyermann® Malts has revitalized this historical brewing barley variety in recent years and, with the Weyermann® Isaria 1924® produced from it, has gained a wonderful malt for its heirloom malt portfolio.
The Weyermann® Isaria 1924® brings a malty-sweet taste and soft biscuit-like aroma to beers.
Brewers use this malt to produce traditional, German Lager beers such as Märzen, Keller and Zoigl beers.
By the way: The Weyermann® Isaria 1924® is now  officially a registered trademark in Germany, the European Union, Brazil, Canada and the US.
The protection of Weyermann® brands is an essential part of the company philosophy. By protecting our brands, we defend the unique Weyermann® value chain: from high-quality raw materials from agriculture, to modern processing methods in the malthouse, to excellent brewing properties in the brewhouse and of course to the unique taste experience of the demanding, beer drinking consumer!
Photos: Stefanie Augner inspects the Isaria cultivation field in Greußen, Thuringia, together with Ms. Böttner, employee at our supply partner Wolfgang Peter
https://www.weyermann.de/wp-content/uploads/2022/05/Isaria_Anbaufeld-Greussen_01.jpg
1200
1600
Ebony Rogers
https://www.weyermann.de/wp-content/uploads/2019/01/weyermann-logo-brdr.png
Ebony Rogers
2022-05-18 11:27:09
2022-05-18 11:28:20
Development status of brewing barley Isaria for the Weyermann® Isaria 1924® in the Thuringian Basin