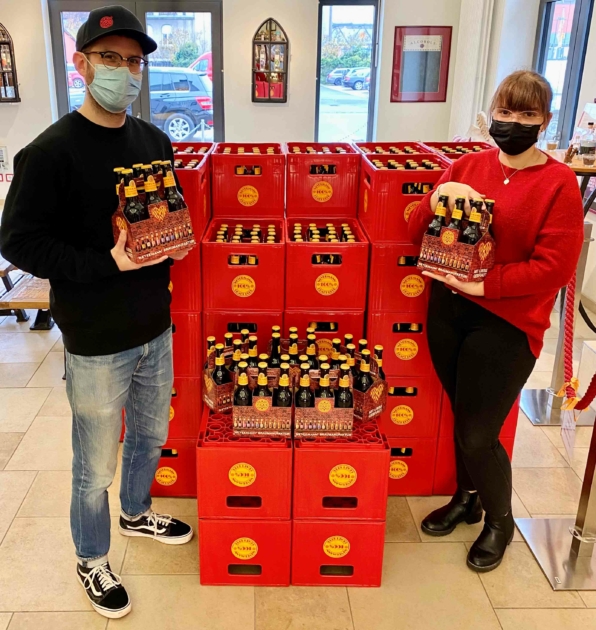 Our lovely event, the traditional Weyermann® Willy Wonka Bock Beer Tapping is once again on hold this year due to the corona requirements.
In order for the Weyermann® employees to still enjoy the beloved beer specialty,
each employee receives a 6-pack Willy Wonka Bock Beer – a gift from the Weyermann® management.
The drinkable beer with 18% original wort and 7.3% alcohol was brewed by our international brewery team around Weyermann® brewmaster Constantin Förtner.
This pure strong beer specialty appears in a full red and mahogany brown color with a long lasting head that is reminiscent of the cream on top of a cappuccino. Its aroma can be compared to a basket of tropical fruit
Thanks go to Sabine Weyermann and Thomas Kraus-Weyermann for this wonderful gesture!
Cheers!  – may we continue to get through these challenging times healthy and safe!
All beer fans can now purchase the Weyermann® Willy Wonka Bock in our Weyermann® Living & Drinking Shop as of today! Available in 0.33l bottles or the practical 5-liter party keg!
https://www.weyermann.de/wp-content/uploads/2021/11/Weyermann-Willy-Wonka-Bock_Geschenk-fuer-Mitarbeiter-2021--scaled.jpg
2560
2421
Ebony Rogers
https://www.weyermann.de/wp-content/uploads/2019/01/weyermann-logo-brdr.png
Ebony Rogers
2021-11-15 09:43:51
2021-11-15 11:58:17
Cozy Bock Beer Time!