Where the clouds are made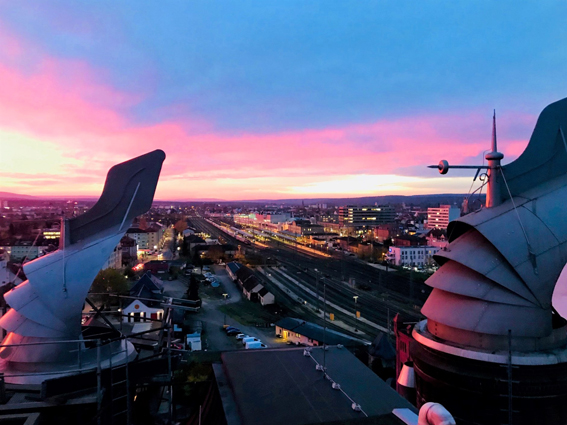 When steam leaves from our chimneys, the warm air goes through our kiln hoods. These steel constructions look like giant knight´s helmets and were a distinctive mark for many malthouses.
The iconic design of the kiln hood comes from Kulmbach in Franconia and was developed around 1900. Until the 1950s, the design was used in malthouses around the world and was known as model "Kulmbach".
Due to the unique shape, the hoods always turn to the opposite side of the wind. This prevents rainwater from entering through the opening. At the same time, a chimney effect is created, which extracts the hot air from the kiln.
This solved the challenge of previous days, when the kilning process could only take place during cool weather. If it became too warm on the outside, the natural effect of hot air rising to the top was gone – there was no buoyancy. The design of the hood created the necessary stack effect, which released the hot air from the kiln even at higher temperatures on the outside.
Nowadays the kiln hoods serve to emphasize the historical character of our premises. The technical revolution of the past days has been replaced by innovations of today. Nowadays, the air of the kilns is first filtered and then released through the chimneys and kiln hoods. The rising steam is water vapor, produced when the malt is quenched in our roasting drums.
Our kiln hoods were completely rebuilt and manufactured in 2019. This steel construction was carried out by the company Steinhübl from Breitengüßbach.
The entire project was coordinated by our project manager for mechanical engineering Frank Lunkenbein. He and the maintenance team were responsible for the planning of the hoods and carried out the dismantling and fitting of the new hoods.
The two hoods have a combined weight of almost 3,000 kg. The larger one has a height of four meters and a diameter of three.
Our kiln hoods are unique symbols of Weyermann® and two details that make our red and yellow world so very special.
https://www.weyermann.de/wp-content/uploads/2020/09/Weyermann-Darrhaube-im-Abendrot.jpg
425
567
gn2
https://www.weyermann.de/wp-content/uploads/2019/01/weyermann-logo-brdr.png
gn2
2020-09-14 14:22:40
2020-09-30 14:40:43
Where the clouds are made