Successfull project completion in logistics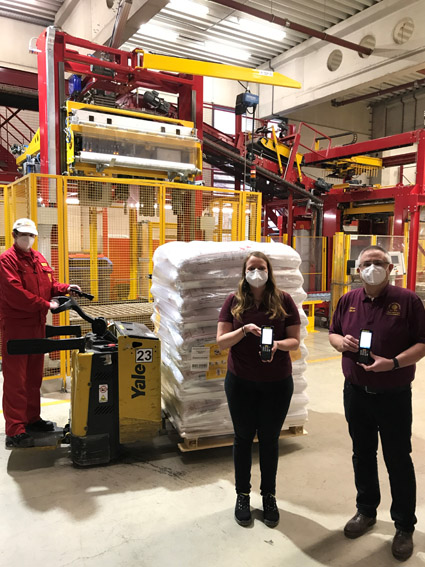 Fantastic news from our Weyermann® Logistics Center: We were able to successfully complete our project "Conversion of the hand scanner software to SAP".
The aim of the project was to reduce the number of software interfaces through homogeneous software use in the area of logistics in order to be able to work faster and more efficiently.
For this purpose, our project team developed a specific software solution for our hand-held scanner devices directly in SAP in close cooperation with our service provider Informatics.
We've already informed about the first successfully completed sub-project in the Weyermann® Logistics and Distribution Center in October 2019: https://www.facebook.com/weyermannspecialtymalts/posts/10156811631482055
In the Weyermann® Logistics Center the challenges of implementing the various software programs related to the bagging system (including palletizers, winders, applicators) had to be mastered and the corresponding connection to the software system Agrar 21 had to be installed smoothly.
The hand-held scanners were finally converted to the new SAP system in mid-December 2020.
Since then, some adjustments and reprogramming have been made in the ongoing process, so that an efficient and smooth process is now guaranteed.
Many thanks to the project team led by Dr. Jonas Wiese, Weyermann® Logistics Coordination, Johanna Wagner, Weyermann® Deputy Team Leader Shipping Loose, Big Bag and Bagging, Christian Gröbner, Weyermann® Team Leader IT & ERP, and Klaus Pfister, Weyermann® SAP Application Supervisor, who together with our service providers successfully completed the project.
Many thanks also go to the company Informatics for the wonderful collaboration!
Photo: Logistics Allrounder Oliver Geuß, Johanna Wagner and Klaus Pfister
https://www.weyermann.de/wp-content/uploads/2021/02/weyermann_Projektabschluss_Handscanner-SAP_Februar-2021.jpg
567
425
gn2
https://www.weyermann.de/wp-content/uploads/2019/01/weyermann-logo-brdr.png
gn2
2021-02-08 10:38:09
2021-02-10 10:41:09
Successfull project completion in logistics